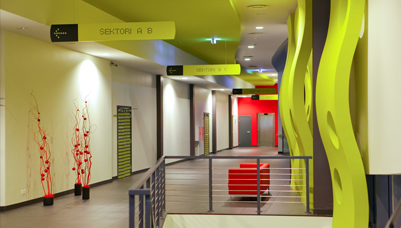 Attractive object for your ads!
"Daugavpils Olympic Center" Ltd. is an attractive target for your advertising. The high level of complex's attendance (450-650 people per day in the autumn - spring season, and 200-350 people per day - in the summer season, up to 7,500 people in the days of mass actions), together with a high level of safety of our visitors, makes advertising in our complex very effective for our advertisers.
Advertiser gets excellent results also out of the visual advertising: advertising banners (~ 40 advertising spaces with a total area of more than 1000 m2), labels (400 lockers) and placing flags in the halls of the sports complex, swimming pool, gym, as well as in the elevator.
Advertising rates
Type of service
Measurement
Price, EUR
Explanation
Booklets
month
10,00 EUR
-
A1 format frames (click system)
month
15,00 EUR
price per 1 frame
Banners' placing
month
15,00 EUR
price per 1 m2
Billboards in the corridors (roll-up)
month
45,00 EUR
-
Placing flyers on tribunes
event
30,00 EUR
the total number of seats - 1350
Advertising on lockers (dressing rooms)_A1 format
month
50,00 EUR
-
Retail space for rent
event
20,00 EUR
price per 1 m2
* The price of the advertising of certain events is being discussed with the event's organizers individually.