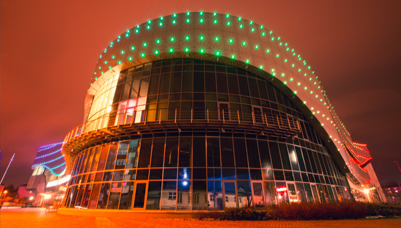 Built for sports!
The construction of Daugavpils Multifunctional Sports Center started in January, 2008. The Sports Center, which is being built by request of "Daugavpils Olympic Center" Ltd., is the biggest closed type construction in all Latgale region.
The newly built Sports Hall has significant functional and visual differences from similar profile construction objects in Latvia and is one of the brightest architectural buildings in the city. The construction works are financed by the Latvian Olympic Committee and Daugavpils Municipality.
Thousands of sportsmen and fans in all region have been looking forward to launching this construction object in operation. On November 1st, 2009 the Olympic Sports Center started its operation. The Center offered such facilites as volleyball, basketball, mini football, gymnastics halls, Latvian unique fencing hall, two swimming pools, sauna, restaurant, fitness and aerobic gyms.